Who am I? – Knowing Who We Are – with Carma
This is a question, we sometimes don't really explore until we really have to. This is simply because we believe that we already know who we are. However, it's a question that we should ever so often reflect upon, to enhance our own personal growth.  
When we get past our surface level, such as the foods and places we like and the people we like to hang out with and so forth, we will realise on closer and deeper inspection that our belief system, is in the main, shared with our family. It is this system that fuels our family dynamics and how we initially lead our lives. 
Our belief system will be challenged throughout our life journey. Enabling us to pause, reflect and upgrade, if we chose to. Often, we do not think to do this, until we hit a crisis. This crisis provides an opportunity to do things differently and to grow.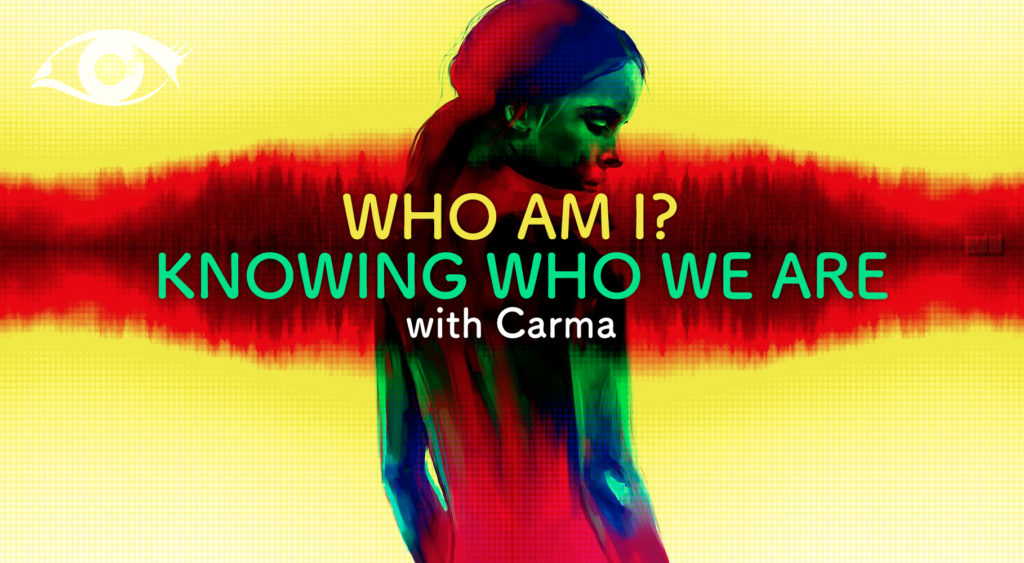 Where we Come From
Our inherited belief and value system is ancestral and therefore ingrained through repetition from previous generations, before it is bestowed upon us by our parents or primary carer/s. These beliefs and values are simply absorbed without resistance and therefore we are pretty much unaware that this is the engine which is driving our life.
As children, we are conditioned to grow up as others show and teach us. This "root chakra" development is at our very essence, our very core. It also forms the basis of decisions we will make throughout the rest of our lives. Then as we get older, we start to form our own opinions, feel our own feelings, make our own judgements. But even many of those are based on the very roots we come from.
Like an engine, our belief system runs along for a while and we are content until we have an issue and only then do we start to ponder what could be wrong with the system.  
The Engine of Life
On exploration, if the crisis is small and a plaster can be put on it, we often do precisely this and continue with our lives, as before. It is only when the crisis is too big to sweep under the rug that we are then put in a strong position to look deeper and to question the need for change. When we start examining our beliefs, it can feel uncomfortable and we may even feel disloyal. This often leads us to want to run from these feelings back to our comfort zone. However, this is often futile because once we have felt these feelings, they will stay with us, until we have worked through them, resolved them and finally conquered them.
When we commence tackling our essential belief system, we may feel that we are pretty much on a solo journey.  So, it will feel like a battle of us against the world and in this respect at times, the world may include our family. 
In some cases, those close to us may want us to remain in the status quo because it is familiar and we may eventually not want to because we have seen another, better way. In others, we may hang onto the conventional way we think we are supposed to do things and thus remain personally unsatisfied. Either way, at some point in each of our lives, a tug of war commences. The balance between happiness and conformity. The battle of breaking free for the sake of our own well-being and liberty. Even at times feeling that our own feelings must come first for our own greater good, even at the cost of possibly upsetting people for our own greater gain, rewards and inner peace.
Out with the Old!
We may be triggered by our old belief systems in this battle. Often people will protect their belief system at any cost because they believe that they are right and essentially this is a question of survival for them. This applies particularly if we try to implement change that goes against the grain of other people's belief systems.  One can understand this view because if people's beliefs are pushed to the extreme, their entire system crashes. They may feel as if they are in no man's land because they do not have an alternative plan, so they will feel lost until they find another way. 
This position is not viewed as strong or powerful. When this happens, they will not feel in control and will therefore feel the need to hang on to something. Albeit, such a crash could enable them to re-start and cultivate a better system. Unfortunately, a good number will not want to do this either because of fear, confusion, laziness and so on. Instead, they will stay with the old system, hence remaining stuck.
Changing the System
At times this same system is no longer supportive when we are growing. This is because it neither understands our concept nor necessarily wishes to see it. If change is essential, then the boat must be rocked! However, as we grow we are also cultivating a new system, whether we can see it immediately or not, we are also putting in place a safety net. When we feel we have outgrown the old system, we can stand on our own two feet and make our own decisions, even daring to go against the grain of what we felt or believed in before, for our greater good.
If challenged by our families, we will not have an urge to fight back, because we are no longer affected by these remarks and simply accept that they may not understand us and that's ok. This enables us to be in control of our responses because we know their viewpoint and we can now respond in a healthy, objective, respectful, compassionate and detached way as we would towards someone outside of our family. Practically, engaging in a pause or a breath before responding in a calm manner, is very useful, as well as keeping our replies succinct but flavoured with love and compassion.  Or alternatively, informing our family that we need to consider their view and could we discuss this at a later date. They may not bother triggering it again but if they do, a reply is already prepared.  
A Powerful Journey 
This journey of breaking old beliefs in favour of change is powerful and character building. We will acquire inner strength, freedom, independence, wisdom, a stronger sense of self, strong boundaries, resilience, growth and so forth. But finally, we will be able to accept and claim self, without feeling the need to explain or justify ourselves.  We will also become familiar with faith and hope. This journey is effectively a quest on many levels, exploring our mental, physical, spiritual and emotional facets. We commenced this quest with a few tools and further along the journey we will acquire further tools and a stronger sense of self.
Our view of the world will naturally change because of our own transformation, we will naturally understand that difference is necessary for the growth of mankind and that difference is often exploited to create separateness as opposed to unity. Socialisation with all, is necessary, so as to gain a wider perspective as well as an understanding and an appreciation of difference. Diversity makes the world not only interesting and creative but also progressive and collaborative.     
Letting Go
Before letting the old system go, we must thank the system for bringing us to this point. As well as thanking ourselves for letting it go. After all, we needed to start somewhere, which will amount to a point of reference later on, when assessing our growth.           
The beauty of knowing self is that we are not governed by society's template but by our own standards and values. Others will continue to judge us because we are not necessarily following the masses and that's ok.  Instead, we are creating our life from our own values and what is important and meaningful to us.  So we are, therefore living life on your own terms. 
Self-Discovery!
The journey of self-discovery is challenging but the rewards are so worth it, as ultimately peace and freedom become our wings. Our qualities become consistent and create our new firm foundation in life. There is no need to go looking for strength, stability, confidence, self-worth etc outside of self because it is all within.  We know who we are becoming and we are loving it.     
Connect with Carma
Carma is a compassionate, warm and uplifting psychic. She is looking forward to speaking to you and to give you a psychic reading! Contact her here: https://psychictoday.uk/reader/6965/carma
Download our Psychic Today Companion App now!
The Psychic Today Companion App, for all your psychic needs! If you haven't yet added it to your mobile phone, you can do so by following our links here: 
To download from the App Store click here
Or to download from Google Play click here 
To top up your credit or if you have any questions or queries, our friendly reception staff are available 8:00 am to 2:00 am GMT on 0333 335 0297. You must be over 18 years old to use this service, which is for entertainment purposes only. You must be the bill payer or have the bill payer's permission. We may send free promotional messages. 
Facebook
Text FACEBOOK and your question to 65511 for your free reading! (Usually £1 per message, max 3 messages per reply. One per person. CS: call 0333 335 0297. UK Only)