The New Moon in Virgo – 17th September 2020
Another monthly New Moon graces the night sky, this time in the practical and sensible sign of Virgo. After the recent, intuitive driven Full Harvest Moon, this New Moon in Virgo happens to be the last blast of the summer, bringing with it not only a Virgo based sense of opportunity to start afresh but also a welcome warm ray of sunshine! Soak up the feelgood vibes before those clocks get pushed back and those chilly nights start to creep in!
This New Moon technically will appear in the sky around midday, but please don't strain your eye looking for it. Trust us, it's there! But what will it do for us this month? Well, the Virgo influence a practical and meticulous one. This star sign will be a beneficial one, known for caring for their friends and loved ones, so in this particular time of shifting guidance on how we should be living our lives, it's a reassuring one to know that it cares for us all. Let Virgo be the big virtual hug we could all do with!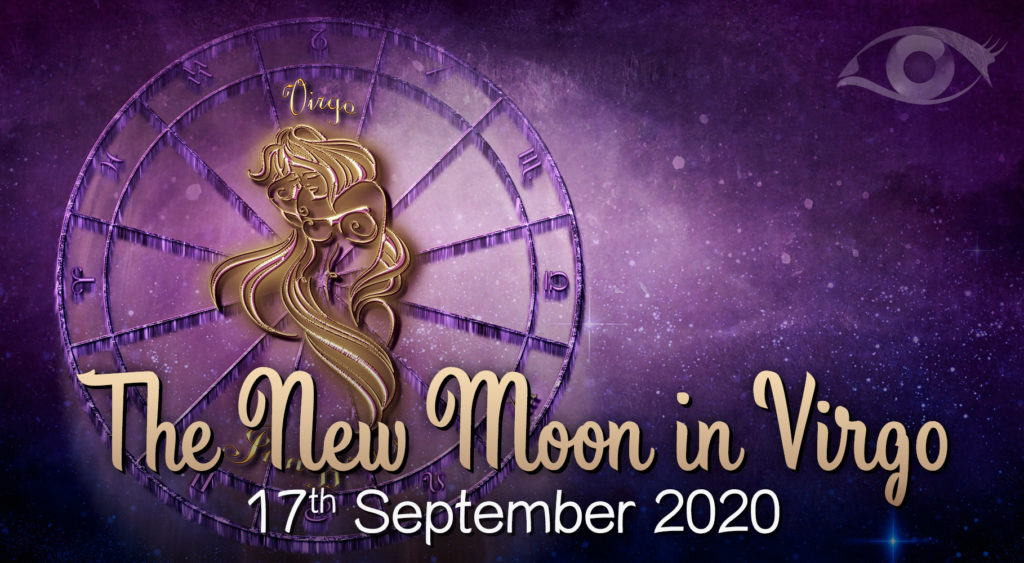 The Moon in Astrology
The warm Virgo energy is certainly one for wanting to have things in their right space! As it stands, The Sun and The Moon are in alignment, so this may trigger action for the perfectionists among you! Along with boosting your inner sense of self-worth, think about those little things you can do to make your day better for yourselves and loved ones. For extra back up, you also have the very responsible planet of Saturn that may provide strong support in whatever endeavours you may be pursuing!
Which each New Moon begins a new Lunar Cycle, so think of it as a chance to reset or recharge from the previous month. Also, each New Moon will always be in the same Zodiac sign that The Sun is travelling through, so the reliable Virgo is as good a place to be as any! Plus there is compassion from the planet of Neptune passing by the sign of Pisces, that is warm reassurance for those who want to seek new ventures with their friends or loved ones.
Other signs that may benefit from the New Moon include an introspective time for Gemini, use the lunation as a chance to get to bottom of those issues that have tangled into a tight knot! For Libra, the New Moon can boost your subconscious growth of finding your inner balance. Think of perhaps a guided meditation for that levelling out that feeling of getting back on track. Also with Aquarius, getting to engage and open up to those you care about is heightened tremendously under the New Moon, saying how you feel can be a benefit to others, as well as yourself!
The New Moon in Virgo Effect
In summary, the Virgo energy of the New Moon is a great time for those of us looking to move forwards. The past months of being stuck in both literal and emotional senses may have held us back, but we all can use the boost of this New Moon to head in the direction that we want to be! Use the magic of the moon to start something new, don't be too judgemental or self-critical of yourself, the energy effect of the New Moon is there for us to embrace.
Take this time to share some love with those who need it more than we do. Don't rush through things, take to time to stop and look up and see how things in a more focused way. The big picture will always be there and impossible to complete at once! So start with the finer details and build from there. Be it a project, a relationship, a career or just yourself, this New Moon could be just what you need right now!
When is the Next New Moon?
The next New Moon will appear on the 16th of October 2020 in the evening hours and will be in the sign of Libra. What will this moon mean for us? Find out next month!
Until then lots of love and light from us all! Xx
Download our Psychic Today Companion App now!
The Psychic Today Companion App, for all your psychic needs! If you haven't yet added it to your mobile phone, you can do so by following our links here: 
To download from the App Store click here
Or to download from Google Play click here 
To top up your credit or if you have any questions or queries, our friendly reception staff are available 8:00 am to 2:00 am GMT on 0333 335 0297. You must be over 18 years old to use this service, which is for entertainment purposes only. You must be the bill payer or have the bill payer's permission. We may send free promotional messages. 
Facebook
Text FACEBOOK and your question to 65511 for your free reading! (Usually £1 per message, max 3 messages per reply. One per person. CS: call 0333 335 0297. UK Only)