The Dark Cards of Tarot – By Hands of an Angel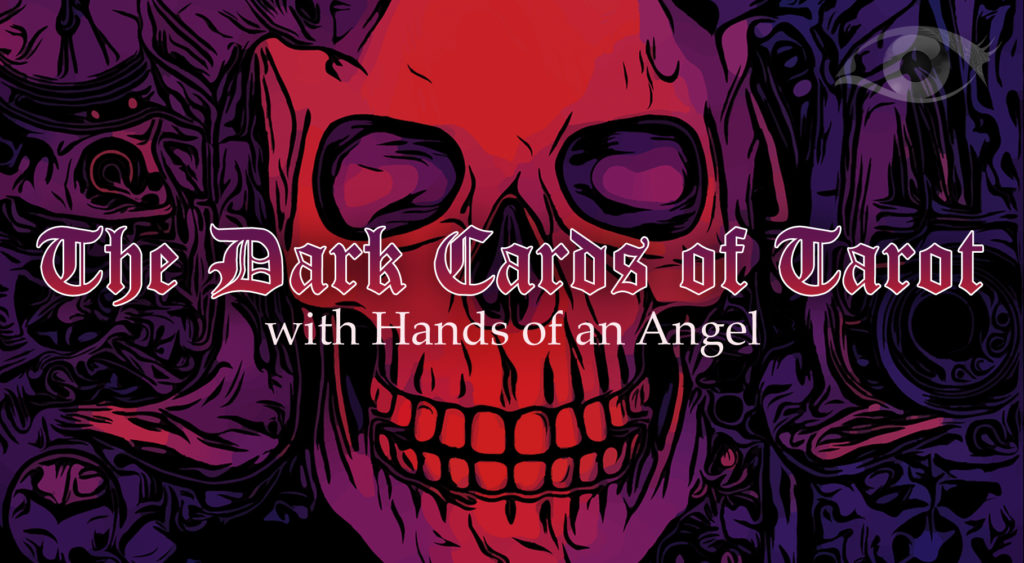 DEATH
The death card within the Ryder Waite Deck is one of the dark cards that can frighten the sitter when pulled out of the pack for their reading! The death card shows the grim reaper, riding on a pure white horse, holding his black and white flag. The skeletal being would, therefore, seem to give us a warning of sorts within the card?
But worry not! The meaning is about renewal, death of the old and new pathways coming in. It is releasing things. Letting go, but if you look there is always a light at the end of the tunnel. At the top right of the card, the sun is shining, which states you are not alone on this journey. There is always guidance, or you may have to walk this pathway to strengthen yourself in many areas.
Unlucky 13?
The death card is ruled by Scorpio and is the Number 13 in numerology. You then add this up to make 4. This has a meaning of grounding, hard-working, relaxation, strength and stability. Number 13 also gives timing to your new pathway. In my reading, therefore, it can mean 13 days, weeks, months. Or when Scorpio is in the earth's pathway. Scorpio is ruled by Pluto the planet of rebirth, regeneration and transformation. As you see this consequently all ties in with the death card.
The final outcome will be filled with love light and positivity! The keyword to the death card is a commitment, as you have to start at the bottom to work your way up to the top. You will also find out who your friends are in the pathway to. Just remember the scorpion has a sting in its tail and can have the last word in many areas in life.  Your pathway is one of intent and rebirth.
THE DEVIL
The devil is the 15 card of the major arcana from the tarot pack.  The meaning of the card is it portraits the ancient goat god Dionysius, shown sitting on the throne while watching over his capture of a male and female. Its meaning represents seduction and psychical pleasures of the material world. Living in fear and trapped in some way, unhealthy relationships and tied in an unhealthy business.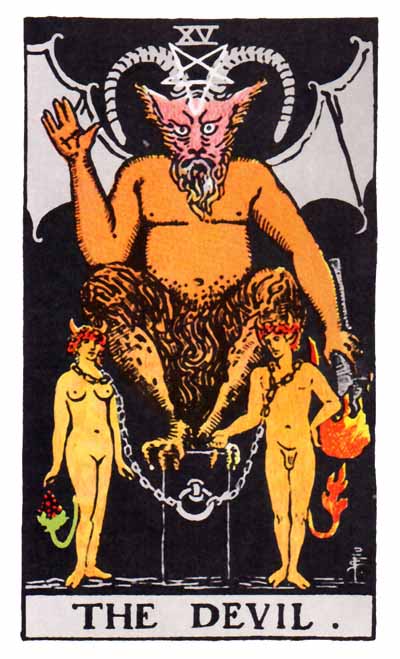 You or someone is in control of your life, trying to get divorced or leave someone. Its element is earth and ruled by Saturn and its star sign is Capricorn. 21 Dec to 21 January. There is also a saying better the devil you know in a situation to, as leopards do not change their spots. The numerology number is 15 which added together is 6. After going through control and much change of the number 5 you are and have learnt your lessons. New beginnings in the Xmas time of the year or changes etc.
THE TOWER
This card is the 16 card in the tarot pack and the picture is all about the 19 century. It is a very powerful card, showing a solid tower being struck by lightning and fire crawling out of the small windows at the top. The card is usually interpreted as a danger, crisis destruction or sudden unforeseen changes.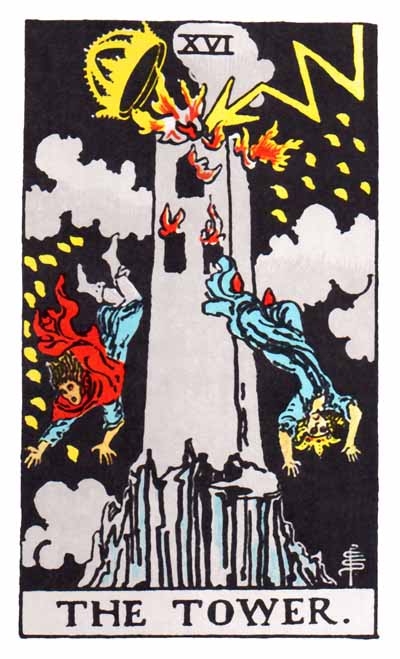 Sometimes we need the tower in our life. Say if you are stuck in the mud, it is good to see a good way through the fog.  Its element is fire, ruling planet ids mars there is no star sign. In numerology it's number 16 added together 7.  This indicates throwing out the past and all that stuff from the devil card to, this card and number will make you much stronger in all aspects of life and inner you too, getting rid of the past, control and moving on.
Don't Worry!
So if in future you check one of these dark cards of the tarot, you now have an understanding of their meanings and they are not as frightening as you thought!
Have a reading with Hands of an Angel
Hands of An Angel is a Psychic Reader with Psychic Today. She can do a wide variety of readings and has many different tools that she can use to do them. Hands of an Angel has a truly delightful, uplifting energy and does not like wasting time. She is very direct and to the point. Find out more about her and have your own reading here via our website; https://psychictoday.uk/reader/4548/hands-angel
Download our Psychic Today Companion App now!
The Psychic Today Companion App, for all your psychic needs! If you haven't yet added it to your mobile phone, you can do so by following our links here: 
To download from the App Store click here
Or to download from Google Play click here 
To top up your credit or if you have any questions or queries, our friendly reception staff are available 8:00 am to 2:00 am GMT on 0333 335 0297. You must be over 18 years old to use this service, which is for entertainment purposes only. You must be the bill payer or have the bill payer's permission. We may send free promotional messages. 
Facebook
Text FACEBOOK and your question to 65511 for your free reading! (Usually £1 per message, max 3 messages per reply. One per person. CS: call 0333 335 0297. UK Only)