Mercury Retrograde in Cancer – 18th June 2020
The old Mercury Retrograde! Usually, when we hear or read those words, it doesn't inspire much confidence! After all, this year so far doesn't need another literal spanner in the works. But far from retrograding backwards, this one is more of a side step, which is quite befitting of the astrology animal in which this retrograde mainly appears, the crab.
Moving from the air sign of Gemini into the water sign of Cancer, a sign known for not addressing problems head-on, this may apply to this particular retrograde. Think of it in terms of being a series of hiccups than an actual setback. We are still moving, very slowly but quite surely!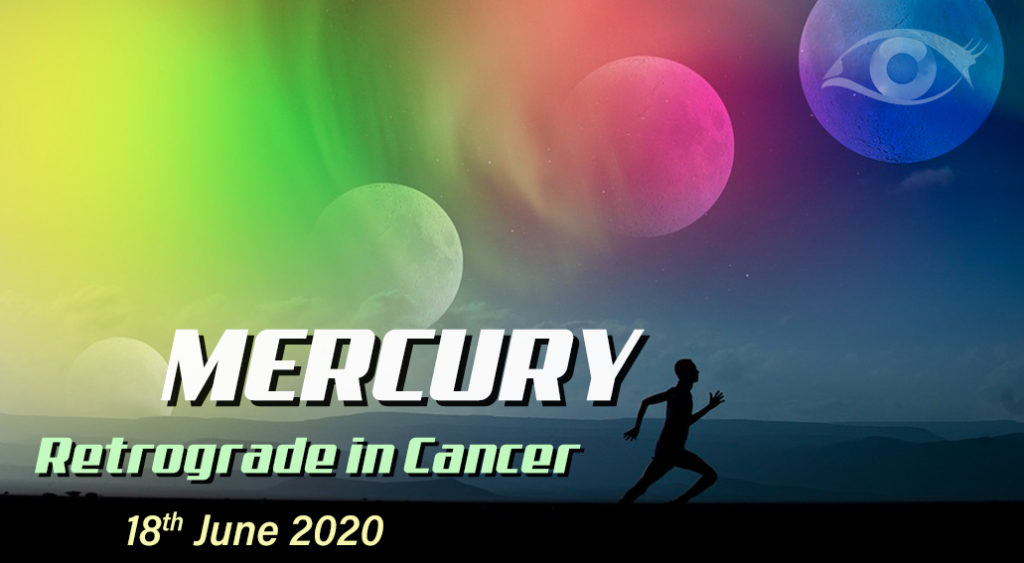 What does Mercury Retrograde mean?
The word Retrograde comes from the Latin word retrogradus, which translates as "backward step." As is suggests, Retrograde is the term for when a planet appears to reverse its orbit, from the perspective of our planet.
Mercury Retrograde in Cancer
Those star signs that will most likely feel the pinch of the retrograde the most are Gemini, Cancer, Capricorn and Sagittarius. Usually, the planets make an appearance to stir the pot of frustrations during a retrograde. A planet such as Mars would have made it tenser and unwanted! That planet of war won't be interfering this time, nor will any other planets, which is most refreshing.
The Mercury Retrograde will connect with the brightest star in the sky, called Sirius. Despite it's given name, there's no need to worry about taking everything too seriously! Use this period of the retrograde as a time of positive reflection. The time in which the retrograde is with us begins today 18th June 2020 (in the air sign of Gemini) right through to 12th July 2020 (in the water sign of Cancer). Not that long in the grand scheme of things!
Your Horoscopes in this Mercury Retrograde
Aries 
Mar 20th – Apr 20th
As if the stubbornness of Aries was not enough, now that the retrograde is in motion, the restlessness seems extreme and the inadequate mood seems to be a daily occurrence in their case.


Taurus 
Apr 20th – May 21st
This might affect the communication skills of Taurus natives in most regards and doesn't allow them to express themselves as they want. This may cause tensions and unrest in a couple's life or with work.


Gemini 
May 21st – Jun 21st
For you, it means that you are not facing a beneficial period for social growth, communication, personal project development or for improving the relationships with your loved ones.


Cancer 
Jun 21st – Jul 23rd
If usually, you move one step forward and three steps back, now all the steps you make are sideways and not even one forward if you are stubborn to jump headfirst in taking important decisions and initiating new projects.
Leo
Jul 23rd – Aug 23rd
You may no longer understand what is happening with those around you. Also, you may hesitate and don't know where to start and what to do. Try to analyze things better and try to detach a little from all the issues.


Virgo 
Aug 23rd – Sep 23rd
The nervous system is the most affected and communication in the home space is not efficient at all. You may find you can't manage to express yourself as you should, thus misunderstood most of the time.


Libra
Sep 23rd – Oct 23rd
You may have a tendency to change the communication strategy with your life partner and your family. It would be better to avoid important decisions and conclusions at least during the following period.


Scorpio 
Oct 23rd – Nov 22nd
This period steps out of line in terms of the relationships with family and friends. It is yet a good time for redecorating your home. Also for strategies that would help you be more efficient and more creative.


Sagittarius 
Nov 22nd – Dec 22nd
The agitation and general state of Sagittarius natives significantly increase during this period, which always gives us a hard time. Try to keep some positivity if you can.


Capricorn 
Dec 22nd – Jan 20th
Surprisingly, Capricorns are a little fortunate. During this period, they may solve some of the problems that occurred recently and easily develop new partnerships that in the end will prove to be very auspicious.
Aquarius 
Jan 20th – Feb 18th
Misunderstandings regarding the communication with your life partner, but also with the professional partners may occur. It would be better to avoid as much as possible taking important decisions.


Pisces 
Feb 18th – Mar 20th
Pisces have the tendency to withdraw and internalize from the sight of others. They may feel the need to be alone and to think peacefully of what they need to do if they have something to do.
The Last Retrograde for 2020
You may be pleased to know, there remains just one more Mercury Retrograde for this year! Beginning on the 14th October 2020 (in the air sign of Libra) – 3rd November 2020 (in the water sign of Scorpio). To find out what to expect from it, be sure to check out our blog nearer the time!
Until then,
Stay Safe,
Love & Light xx
The Psychic Today Companion App, for your psychic needs!
To top up your credit or if you have any questions or queries, our friendly reception staff are available 8:00 am to 2:00 am GMT on 0333 335 0297. You must be over 18 years old to use this service, which is for entertainment purposes only. You must be the bill payer or have the bill payer's permission. We may send free promotional messages. 
Facebook
Text FACEBOOK and your question to 65511 for your free reading! (Usually £1 per message, max 3 messages per reply. One per person. CS: call 0333 335 0297. UK Only)