Psychics; Which one is right for me?
So, you think you want to talk to one of our psychics. But which psychic? And how do you make sure you pick the right psychic for you?
These days, the choice of psychics seems to be ever-growing. They come in all shapes and sizes.  And of course, the list of psychic skills is also enormous. From natural psychics to intuitive card readers, to crystal healers and channellers. Which psychic is the right one for you? And once you decide on your psychic, how do you know if you will get the reading you want?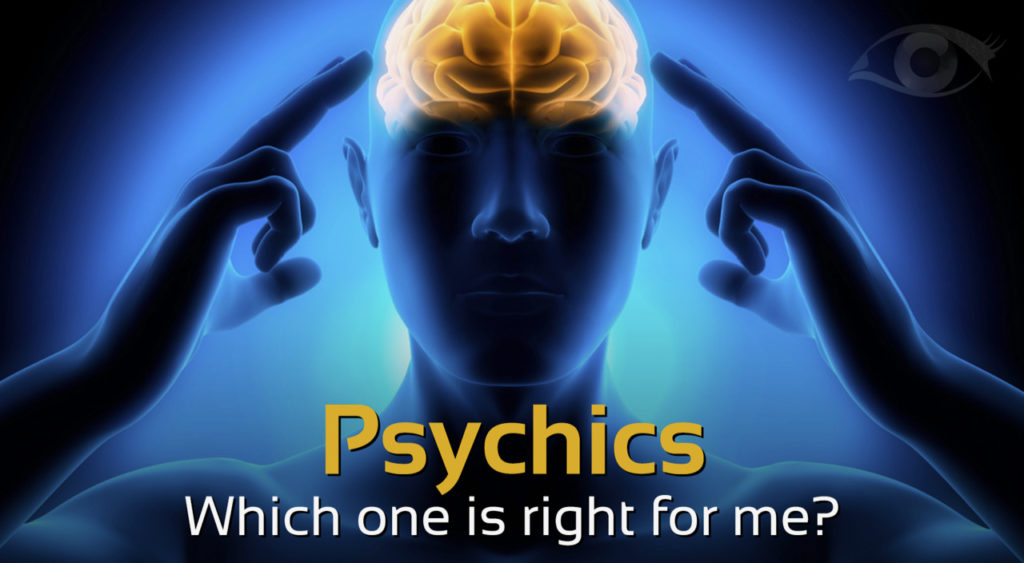 Who is the Right Psychic?
First, let us be practical. You want a psychic reading, but you don't want to pay unnecessary money. You want your money to be well spent. But that doesn't necessarily mean that the cheapest psychic services will be what you are looking for. Because if you get the RIGHT psychic, you may well have to spend less time with them. You may be able to get your reading done how you want it and in less time. You could come away with everything you wanted in your reading. But to do that you need to pick the right psychic.
The right psychic for you is likely to be one who tunes into you quickly. They understand your needs. It is someone with whom you feel completely comfortable and at ease. Someone who you can be open with. It is someone that doesn't waste any time on the phone with you. But of course, you also want this psychic to be good at what they do. You want them to understand what you want out of the reading and to give you exactly that. To give you the insight you want. And here really lies the key in how you choose.
Where Do I Start?
There are several aspects that you need to consider when choosing your psychic.
(1) The Reason for your Call
What is essentially the reason you want to speak with the psychic?
Is it actually a present issue you want the psychic to look at?
Or do you want to know how a current issue will progress or change?
Is it a pure future reading you want, i.e. what will happen in the future and what is the forecast?
Or perhaps you feel blocked and don't know how to move on from a past issue?
Do you want someone who will connect into the energies around you?
Perhaps you are just curious to see what insight they have to give you. Which is fine too.
A fundamental reason that people do not get what they want from their psychic, is that they are not clear at the beginning of the call as to what their needs are. So, you do need to be clear with the psychic you choose.
Some clients get so lost they come out with one question and then forget to follow up with others they wanted to ask, as the reading progresses. So, write down exactly what your questions are before you call. And consider this; many people simply ask what is in the future. The question they ask is "Will things be different from now?" or "Will things get better, and when?"
But to answer those questions, understand the psychic has to start the reading in the here and now, to understand the current situation. Then they can look at the options on potential improvements, moving forwards into the future.
Thus, the question that is asked could be better phrased as "This is the situation I am in now. I am not happy and I want things to get better. Please tell me how you feel that can happen?"
(2) The List of Questions
If you have several questions, list them and tell your psychic at the beginning of the call. This is, after all, a meeting, so do set the agenda. The psychic will naturally usually ask you why you have called, so here is your chance to say why! If you have three or four questions, then tell your psychic at the beginning of the call. The reason for this is that the psychic may pick up insight into several different situations. But if you have only asked one question about one specific area, they may not share the insight they get on the other areas, as it is not the question you put to them.
Be realistic. Don't list 20 questions and expect them all to be answered within 7 minutes! Each question you ask may have several aspects, so you need to give your psychic adequate time to look at these and supply you with the insight you require. For a good psychic reading, choose one to four main questions.
(3) Which of the Psychics?
Now you have your list of questions and you know what to ask. It's time to look at which psychic to call.
So, now decide what style of psychic reading you require. Do you want a tool to be used such as the Tarot cards or runes, which have quite specific meanings and you feel comfortable with? Or do you want to give the psychic freedom to use their natural senses and see what they can pick up?
If you have a preferred tool you wish them to use, then choose a reader who uses that tool as a primary way of giving their readings. They have stated this is their forte and this is the tool they will use.
If you do not have a preference for a tool, how do you want a psychic to read? By visions they receive? By feeling what you feel?
Here is a short guide on understanding how they read.
Types of Psychics
Seeing psychic/psychic visions – the psychic get images or psychic visions and relates what they see.
Hearing Psychic – the psychic connects with their guides and is given messages they can hear in their ear or in their heads.
Feeling Psychic/Empath – the psychic feels emotions and feelings. Often these psychics can really relate to your emotional state of being.
Hands-Free Psychic – the psychic tunes into the energies around you as well as the energies around them. These energies can often communicate between themselves and pass messages to the psychic.
Remote Viewing – the psychic tunes into the current or future situation to see what is going on and gets still or moving images concerning this. Technically "seeing" a person, circumstances or an event remotely.
Channelling – the psychic is an open channel, receiving insight from celestial energies or their guides.
Spiritual Healer/Reiki Master – looks at current energetic blockages and gives spiritual healing to remove them and regulate the client's energy. It allows them to get rid of past baggage and move on to pastures new more happily.
(4) The Type of Person
Yes, it does really matter what kind of person we choose! We all have likings for certain types of people and dislike of other kinds. So for this particular reading, think about what you want. Do you want a warm kind, relaxing kind of spiritual person to speak with? A person who will calm you down, make you feel understood, and leave you feeling relaxed? Do you want a dominant, direct, high energy, straight forward person who will just tell you things like they are? Or perhaps you need a good dose of sympathy and compassion?
People are all very different in their character, so it is important that you choose the right type of personality to suit your needs right now. This will ensure you "gel" with the psychic and get the ambience you want during your reading.
(5) Put it All Together
Start with looking at psychics using the kind of tool or senses you wish them to use to give your reading and make a shortlist of who appeals. Now look at their profiles in detail and look at their personality. Next, is the type of reading you want listing among their skills? The psychic who qualifies for all of these areas is likely to be right for you.
If after doing this you still have several psychics to choose from, read their profiles carefully again. Look at their pictures and follow your intuition.
(6) I did all that but it doesn't feel right!
If after connecting things don't feel right in the first few minutes, remember it's your reading. It is best, to be honest, and say so and then choose again from the psychics in the category that interests you.
Now I have found the right psychic for my reading!
When you connect, it just feels right. The Psychic welcomes you and you feel good. You state your questions, and the psychic starts giving you insight. You listen and feel happy. Now you know you have picked the right psychic among all of the psychics to choose from! Enjoy your reading!
Start your journey by choosing the right psychic here, after preparing your list of questions. https://psychictoday.uk/readers?cid=162