Burns Night – 25th January 2020 – By Luna
Burns Night is here again! But what is Burns Night? Were does it come from and what is it all about?
Around the world on New Year's Eve (called Hogmanay in Scotland), it is tradition to sing the popular song Auld Langs Syne. This poem set to a traditional folk song bids farewell to the old year at the stroke of midnight. What is less known is who wrote this poem. The poem was written by Scottish poet Robert (Rabbie) Burns.

History and Traditions
Burns was born on 25th January 1759 in Alloway, Scotland, his parents were tenant farmers. Education was important in the Burns household and Rabbie became an avid reader. The big influences were the romantic movement and relationships with the opposite sex. By the age of 27, Burns had published his first collection of poetry which received sensational success in Scotland. Burns went on to write many pieces that addressed the political and civil issues of the country and beyond.
Today the influence of Burns remains strong in Scottish literature. On 25th January (Burns' birthday) each year in Scotland there is a celebration of his life and contribution to Scottish culture. These annual events can be formal celebration as a ceilidh, which is a social gathering with traditional Scottish music, dancing and storytelling.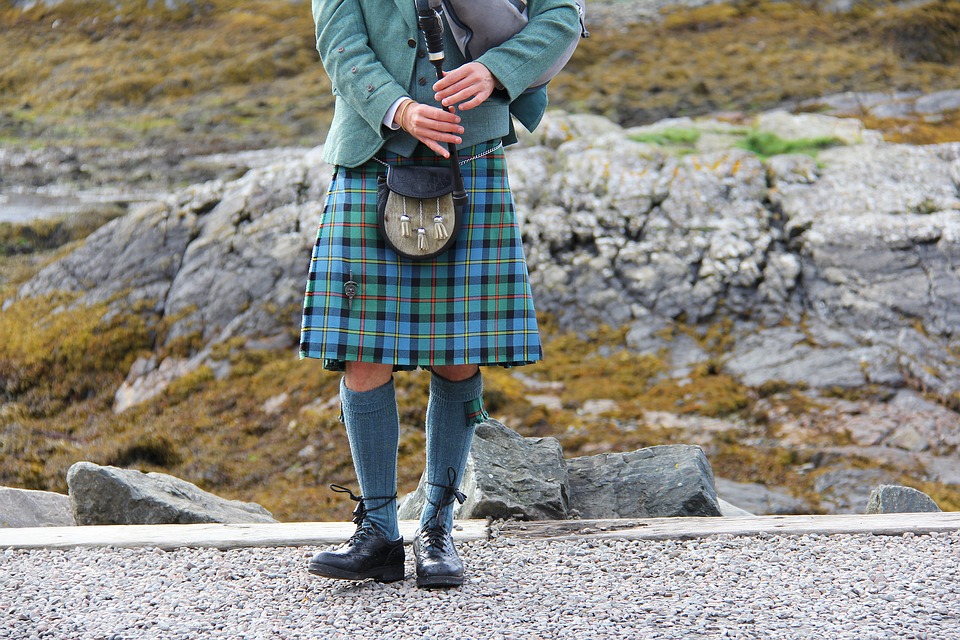 The Burns Supper
This is a traditional meal of haggis, neaps and tatties. A haggis is a sheep's or calf's offal mixed with suet, oatmeal, and seasoning and boiled in a bag, traditionally one made from the animal's stomach. Neaps are mashed turnip and tatties are mashes potatoes. For those attending a formal Burns supper they will be piped into the hall by pipers on bag pipes.
Address to a Haggis – By Robert Burns
Fair fa' your honest, sonsie face,
Great chieftain o' the pudding-race!
Aboon them a' ye tak your place,
Painch, tripe, or thairm :
Weel are ye wordy o'a grace
As lang's my arm.
The groaning trencher there ye fill,
Your hurdies like a distant hill,
Your pin wad help to mend a mill
In time o'need,
While thro' your pores the dews distil
Like amber bead.
His knife see rustic Labour dight,
An' cut you up wi' ready sleight,
Trenching your gushing entrails bright,
Like ony ditch;
And then, O what a glorious sight,
Warm-reekin', rich!
Is there that owre his French ragout
Or olio that wad staw a sow,
Or fricassee wad make her spew
Wi' perfect sconner,
Looks down wi' sneering, scornfu' view
On sic a dinner?
Poor devil! see him owre his trash,
As feckless as wither'd rash,
His spindle shank, a guid whip-lash;
His nieve a nit;
Thro' bloody flood or field to dash,
O how unfit!
But mark the Rustic, haggis-fed,
The trembling earth resounds his tread.
Clap in his walie nieve a blade,
He'll mak it whissle;
An' legs an' arms, an' heads will sned,
Like taps o' thrissle.
Ye Pow'rs, wha mak mankind your care,
And dish them out their bill o' fare,
Auld Scotland wants nae skinking ware
That jaups in luggies;
But, if ye wish her gratefu' prayer
Gie her a haggis!
Thank you for reading!
Did you sing Auld Lang Syne on New Years Eve and did you make new years resolutions? Do you need guidance to change your path and live your best life? Call one of our psychics today to find out more……
Connect with Luna
Luna is an uplifting and compassionate psychic. She is looking forward to speaking to you and to give you a psychic reading! Contact her here: https://psychictoday.uk/reader/6853/luna#/
The Psychic Today Companion App, for your psychic needs!
To top up your credit or if you have any questions or queries, our friendly reception staff are available 8:00 am to 2:00 am GMT on 0333 335 0297 . You must be over 18 years old to use this service, which is for entertainment purposes only. You must be the bill payer or have the bill payer's permission. We may send free promotional messages.