Soul Attraction – Making Decisions


Everyday we make decisions from choosing what to drink or eat, to bigger decisions that potentially affect our relationships, job and family.  It is so important to make good decisions as they have the potential to affect the course of our lives for the long term.  Small decisions, however, can still have a huge impact on our love lives, relationships, career, family and friends. While some people appear to always make good decisions, others seem to take a wrong turn at every corner.    So does this mean there is there a way to gain insight to make decisions that will will have a positive impact on our life path in the long term?

This was a question I asked myself several years ago when I started to look at my life from a soul level.  The good news is that there is a soul path for us to follow but the bad news is that we still have a certain amount of control over our lives.  It's this control that allows many of our fears to block or delay us from achieving our goals and dreams.

Milestones
The best way to explain it is to think of your life path as road with a certain number of milestones along the way.  These milestones represent certain people and events that will cross our paths to enable our soul to learn valuable lessons.  These lessons are part of our soul's evolvement and expansion. The path between these milestones is where we have freewill to choose.  We have a lot more choice than we realise and this is why so many people achieve achieve varying levels of success. People who achieve massive success are aware of how our conscious minds are so limited but they have learnt at some level to tap into the power of their subconscious mind to harness the flow of unlimited creativity and prosperity.   


So what has all this got to do with how we make decisions?
The easiest way to make a decision is to know the outcome you want.  That way you can weigh up the options and assess each one as to what will take you closer to the end result and what will take you away from it.   However it's not always that easy. For example .. if you want to end a relationship or leave your job then there's no options to weigh up. In both cases,  you either end it and move forward or you find a new alternative and then move forward.

What I find time and time again during a reading is that it's good old fashioned fear that stops most of us moving forward.  These include fear of the unknown, fear of being alone, fear of not finding a better job to name but a few, and while these fears are perfectly normal to experience, it can start to affect other areas of our life if we don't deal with them straight away.


YES or NO
This is where our own intuition can help us.  A very simple tool that I teach my awareness groups is to visualise the word YES on your left palm and the word NO on your right palm.  Then imagine a powerful white stream of energy coming down through your crown chakra, passing through your throat and heart chakra and down into the palm of your hands.  This will help align your responses up to what your heart wants and for your highest good.


Now it's time to have some fun playing with these new intuitive tools.   Start by asking questions that you know the answer to so that you get a good idea of how it works.  You may get a heavy feeling in one hand or feel hot or cold tingles. You may just feel drawn to one hand over the other.  There's no wrong way to feel it, you will know instinctively what the response is.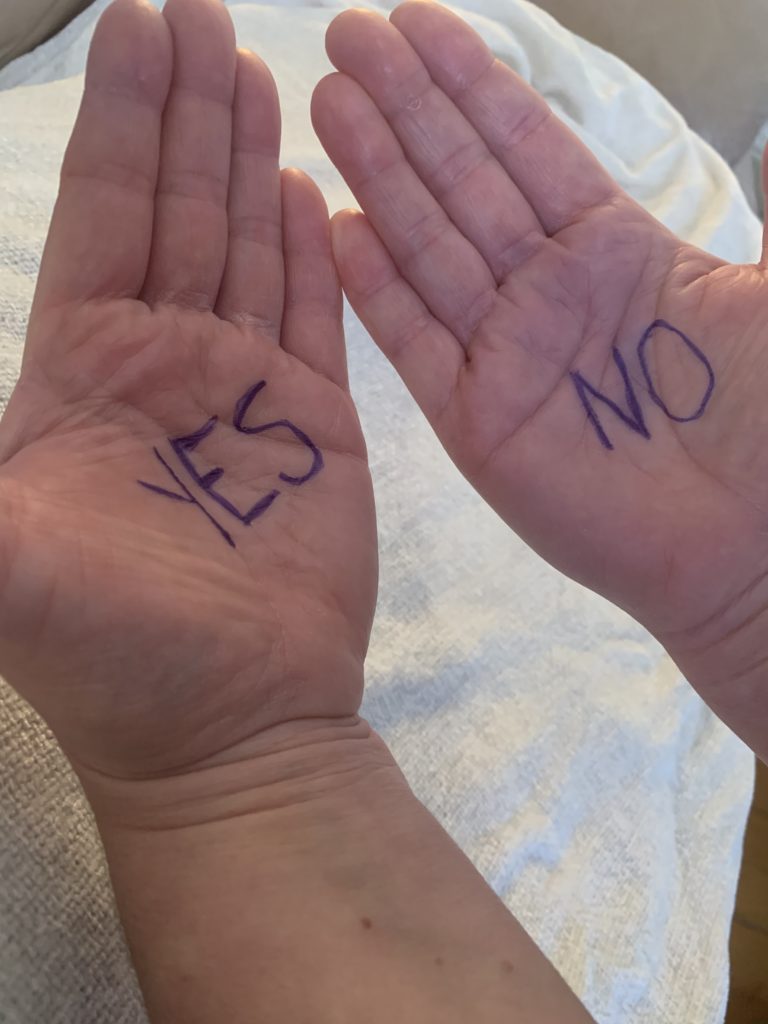 Once you get used to it then expand out to questions that you don't know the answer to.  One thing you must bear in mind is how you ask the question. Our heart and the universe takes our words literally.  For example, if you ask 'Will I meet anyone this month?' You will without doubt get a yes because you are likely to meet someone if you leave your house.  People are everywhere when you venture out in public! However, if you ask a more detailed question 'Will I meet someone new for a long term romantic relationship this month?'  Then you'll attract a more detailed and relevant response. This takes a bit of time to develop but it just comes down to practice. Have fun and enjoy the process!
Thank you
Thank you for reading.  I hope you enjoyed it! Love and Light to you all! X

For a more in-depth look at decisions, including relationships and old hurts you can contact any of our psychics or myself, Victoria Armstrong – PIN 6637.
Get in Touch
The wonderful and caring Victoria Armstrong offers sound and uplifting guidance in a reading with you. She has many years' experience giving intuitive insight on all kinds of love readings. Speak with her directly for your positive guidance here; https://psychictoday.uk/reader/6637/victoria-armstrong