September's Full Moon: Rewind and Release
First, the basics:
Full Moons in September have historically been referred to as the Full Corn Moon. This is due to it being the full moon that occurs right around the time of the corn harvest. Taking a look at our Full Moon this month, it is on September 6, and at 13 degrees Pisces. This one impacts our love life a bit more than usual- and I'll get to that in a moment.
The Sabian Symbol for this Moon is "An aviator pursues his journey, flying through ground obscuring clouds." which seems pretty appropriate to me! The short version of how we use the Sabian Symbols is this: think about that statement and visualise it in your mind. What comes to mind for you, specifically?
Now, this is an odd full moon due to its ties to other planetary aspects. It may be a bit intense, but, as such, that means you can use it much more effectively.
How We Use The Full Moon
Full Moons tend to expose a lot of areas where we are at odds, emotionally. Often, those things we try to bury within us emotionally have a way of emerging. Because the Moon draws out our emotions: you often find a greater awareness and intuition. You may also see areas of your life, particularly your close relationships, that aren't quite balanced. This insight is important, as it is the first step to resolving issues.
Each of these lunations work in cycles. This particular Full Moon cycle will tie in with whatever you had going on during the Solar Eclipse on August 21st. Any intentions, goals or dreams you may have initiated will benefit from taking a long hard look at them. You may need to make some adjustments and change some things up. However, you will find that over the course of the next two weeks- you're better able to fine tune those things.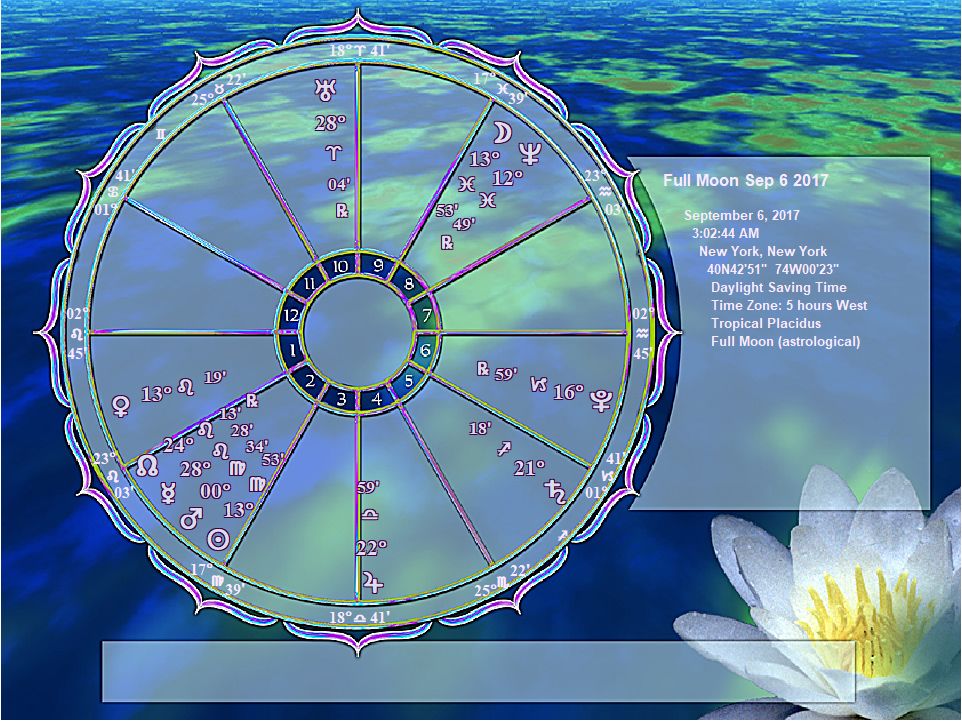 There is a lot at play here that really seems counter intuitive, but bear in mind: whatever fruit you hope to obtain is going to depend vastly on what you're nourishing yourself or that situation with. You cannot feed yourself fear and hope for trust. You cannot feed yourself resentment and hope for joy. Many of the influences at play here deeply indicate a very real sense of "What you sow, you also reap" so be sure you're putting out what you hope to get back.
The Full Moon and Neptune Retrograde 
Because this Full Moon is in Pisces, Neptune retrograde definitely has an influence here, and it's a strong one. Take a look at those you hold near and dear, as well as your interactions with them. The upshot here is that this particular combination can really enhance your spirituality, or show you the need for it. It can certainly put the polish on some of your dreams and ideals. However, we may also experience some issues with things not being so clear. We may become confused and may either be more open to deception- or, deceiving ourselves and others.
This Moon is conjunct Neptune, which lends a lot of energy to how sensitive we are. We have to be very careful though not to misread things because not everything may be what it appears to be. Sometimes, this is a great thing as it turns out the guilt we feel is not our baggage, or our suspicion turns out unfounded. Other times, we might dream ourselves into a glorious fantasy that reality doesn't back up.
So What's the key?
The way to find insight, as with a lot of things, begins with you. Being honest with yourself is the best place to begin- and if you're a bit more self aware, you can navigate to the truth. If you are engaging in truly compassionate and understanding behaviors, you may find things work out better for you. If you follow your suspicion back to the insecurity it ties into, within you, you may find that's the lens you're reading things through. If you can understand that sometimes, we see things as we wish them to be, not as they are: this helps, too.
One thing that may help tremendously is insight. You must be upfront about what you want and need, and clearly so. Engaging in passive aggressive behaviors, hinting and beating around the bush are not going to help now. Whatever you do, avoid any sort of deceit. Even the most benign white lie can cause a great deal more confusion and hurt than you intended. If you are faced with a challenge or a delay- don't shy away from it or try to avoid it.
What will the full moon bring for you? Get your answer from Victoria and the SMS text psychic team by texting FULL to 87777.
Max 3 x £1.50 texts per reply. Standard network rates apply to messages sent to 87777. Over 18s only. You must have the bill-payer's permission. You may receive free promotional messages. To opt out text STOP to 87777. Service by Com & Tel. Helpline: 0333 335 0297.