CHAKRAS; Unlocking your potential
What unblocking your chakras can do for you.
Here at Psychic Today, many of our Psychics are also Reiki Practitioners or Spiritual healers. In their profiles, you will see that many talk about balancing and unblocking chakras. But what does this mean? How can these people "work on your chakras" at a distance? And what is the point?
What is a chakra?
Chakra is a Sanskrit word which means wheel, circle and cycle. The philosophy of the chakra, Reiki and many other forms of energy healing are originally eastern concepts. These days, they are very much a part of the "New Age" spiritual philosophy in the West as well.
Chakras are thought to be energy centres in our subtle body. This "overlays" our physical bodies. Simply put, chakras are whirring wheels of spinning energy, often seen by Spiritual practitioners as balls of coloured light. There are hundreds of chakras, but there are 7 main "control centres". The concentration of spiritual healing and Reiki is therefore on these seven main chakras. These are aligned in an ascending column. From the base of the spine, or coccyx area, up to the top of the head.
The chakras are thought to vitalise the body at a spiritual/soul level. They interact with our physical, mental and emotional bodies at an energetic level. According to many practitioners, our every thought, feeling and experience is registered in the chakras. As the chakras spin they draw in and "breathe out" energy. Consequently, their function is to keep the spiritual, energetic, emotional, mental and physical aspects of a person in balance.
We can now start to understand the philosophy that through the stresses of life and emotional upheaval, our chakras can get out of balance. This can then have various negative effects on us. Likewise, we can understand that an impetus of fun, laughter or good physical workout gives us good energy. This can have a positive effect on our chakras. It can affect our balance and also have a positive effect on our emotions.
Which Chakra does what?
Each of the chakras has a different purpose. Let's have a closer look at the diagram below.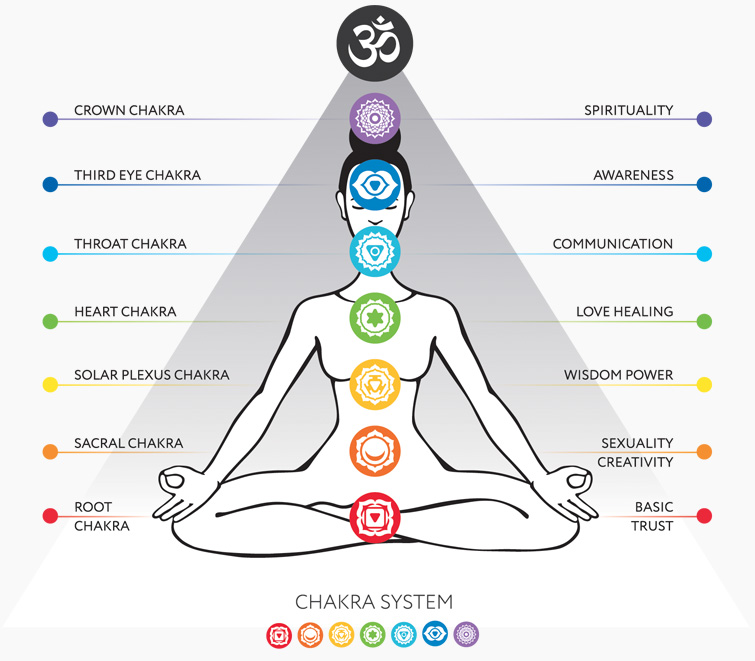 In the middle of the body in the diagram, you can see each chakra and its traditional shape. Note that each is circular, but that the details within each circle are different. Clearly when spinning, each chakra varies from the next. Each will have a different energy.
Each chakra has a different colour. It resonates within a particular area of the body. This does not change from person to person. It simply " is".
The western name of each chakra is given to the left of the drawing. Down the right hand side, you will see that each chakra has been given a brief meaning. The actual purpose of each chakra is far more detailed and complex. Each chakra performs numerous functions.
Bear in mind that our physical, emotional, mental and energetic history is supposedly contained in each chakra. Thinking this way, you can now start to understand how a Spiritual healer can theoretically connect into your energy and read your chakras. During this, they may be able to tell you something about your past and possibly why a blockage occurred.
The Chakras in more detail
Looking at the chakras in more detail, here are just some of the aspects that each of the Chakras are said to control;
ROOT OR BASE CHAKRA (Sanscrit: MULADHARA) Colour; RED.
Past history, childhood, security, survival. Family and siblings, instinct, stability and grounding. Sexuality, sensuality.
SACRAL CHAKRA (Sanscrit; SVADHISHTHANA) Colour; ORANGE
The chakra of relationships, emotional needs, friendship. How we bond and react to others. Pleasure.  Addictions, argumentative nature, violent characteristics are the opposing end of this chakra.
SOLAR PLEXUS CHAKRA (Sanscrit; MANIPURA) Colour; YELLOW
The chakra of our personal power. Nervousness, ability to progress and willpower. Belief systems, spirituality. Self-esteem, fear, extroversion or introversion, dominance or submission. Confidence.
HEART CHAKRA (Sanscrit; ANAHATA) Colour; GREEN OR PINK.
Love and the giving and acceptance of it. Compassion, passion, devotion, tenderness, generosity, rejection. Well- being. Loneliness, unresolved sorrow. This chakra also stores our "love history".
THROAT CHAKRA (Sanscrit; VISHUDDHA) Colour; TURQUOISE
The centre of communication and expression of ideas. Independence, fluid thought, creativity. Lying, deception.
THIRD EYE CHAKRA (Sanscrit; Ajna) Colour; VIOLET OR INDIGO
Sleep and waking in all its forms; this is the chakra of psychic connection, of intuition and spiritual awakening. The balance between the higher and lower self. Imagination, concentration.
CROWN CHAKRA (Sanscrit; SAHASRARA); Colour; PALE MAUVE OR WHITE
Higher consciousness. Intention. Unity, soul connection.
Unblocking your Chakras
As we go through life, our chakras store our experiences. Thus, as life has its ups and downs, the Chakras can be subject quite a lot of wear and tear! So, when you have a bad experience, you may cope with it and move on. On the other hand, you may have difficulty in coping. We all know this can have various negative effects across many aspects of our lives. This is therefore one way that your Chakras can get blocked. For example, if your partner suddenly unexpectedly ups and leaves you, this can cause you some emotional pain. According to each person's past history, each person will react differently in these circumstances.
According to spiritual beliefs, there could be several direct effects of this situation on various chakras. For example, you may have a blocked heart chakra and a feeling of loneliness and sorrow. You find it hard to get over this loss. Your solar plexus chakra may also become blocked. You may experience self- doubt, become more introverted and lacking in confidence. Likewise, this may also have an effect on your throat chakra, where consequently, you feel "all choked up" and unable to express your sorrow. This is just an example, of course, but you can begin to see how various emotional events can potentially affect your chakras, in both the short and the longer term.
What an Energy healer can do for you and your Chakras
There are many different types of energy healing and several distinct techniques. Especially relevant are various forms of Reiki and also different types of spiritual healing. In the 2nd level of Reiki, initiates are taught how to give distance healing. This means that they can read your energy, look at and balance the chakras and unblock them from a distance.
Your practitioner will usually start off by having a chat with you. They will ask if you have any specific issues you would like to address. You may want a psychic reading to assess your current situation and be seeking solutions for a brighter future yourself. During this reading, the practitioner may already be able to pick up on chakra or energy blockages. You may also request that they have a specific look and conduct a chakra balance or de-block.
Your practitioner may well be able to see your chakras, or to feel or hear their vibration. According to how they work, they will consequently then pick up blockages, slow or fast spinning chakras by seeing, feeling or sensing these. They will then concentrate on regulating the chakra so it is spinning at its optimal speed. They will then move along with removing any blockages. Sometimes when these blockages are removed, your practitioner can tell you what they are. Thy may also pick up some insight as to how these happened.
Putting Good Energy Back
Usually when a blockage is removed, your spiritual therapist will put some good energy back in to the space that the blockage was removed from. This is a gentle healing energy, and is thought to work at an electro-magnetic level.
They will then ensure everything is left nicely and tidily, that the chakras and energy look balanced, and then close down and finish the session.
The effects of how you will feel afterwards will vary, according to the chakra work that has been carried out. How quickly this can be felt is therefore also a personal thing. The object of the exercise is that you should, within a very few days, begin to feel the benefits. You should leave your session feeling relaxed and uplifted. As the days go on and you make progress, you should be able to feel more positive and confident in your thoughts and actions. Some people think that they do literally leave the past behind. Others again feel that they are able to progress with a new and exciting energy.
Our selection of Energy Healers for you
If you feel you could benefit from a chakra reading, balance or de-block, why not browse our wonderful selection of spiritual healers, energy workers and Reiki therapists?
Discover the world of Chakras, and get your spiritual energy running at optimum speed!
Click here to discover our Reiki healers! New customers qualify for a special promotion of 30 mins for just £4.99.